Our Mission at WestPark Dental Associates
To exceed the expectations of our patients and our referring colleague
and to provide the best possible dental care for our patients in
a caring and responsive environment.
This Mission is Best Accomplished Through:
• Continuing education in excess of Texas requirements.
• Embracing the latest improvements in dental technology.
• Always keeping in touch with the needs of our community.
• Delivering dental care conforming to the highest standards.
WestPark Dental Associates is proud to be a privately owned, community based entity
and not affiliated with any nationally owned or managed dental corporation.

WestPark Dental Associates Earns Esteemed
2014 Angie's List Super Service Award
This award reflects WestPark Dental's consistently high level of customer service.
WestPark Dental Associates has earned the service industry's coveted
Angie's List Super Service Award, reflecting an exemplary year of service
provided to members of the local services marketplace and consumer review site in 2014.
"Only about 5 percent of the Dental Providers in the DFW area have performed so consistently well enough to earn our Super Service Award," said Angie's List Founder Angie Hicks, "It's a really high standard."
Please click award symbol to see our outstanding reviews on Angie's List.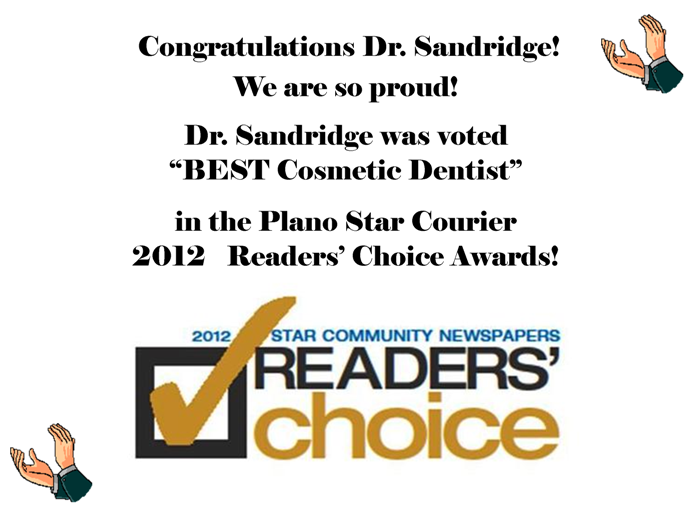 Request an Appointment Today!

We are located just west of the intersection of Spring Creek Parkway and Coit Road .
Like us on Facebook or email us @ westparkdental@aol.com
"We use Angie's List to assess whether we're keeping valued patients like you happy.
Please visit AngiesList.com/Review/556455 in order to grade our quality of care and customer service.